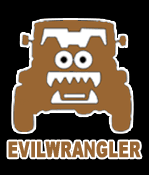 | | |
| --- | --- |
| My Jeep - Extended Brake Lines | Evilwrangler.com |
---
Extended Brake Lines
--------------------
These were my second set of extended brake lines. My first (Goodridge) were broken the first time I disconnected my front sway bar and fully flexed my Jeep. They just weren't long enough for my suspension. Luckily for me I had brought my stock brake lines with me and was able to fix this on the trail.

These new brake lines were made by Crown Automotive and are a good 6"-7" longer than the ones I got originally. I found somebody in the club that had won these in a raffle and didn't need them so I got a real good deal. So far, No issues.
---