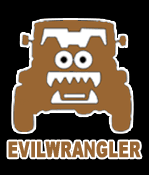 | | |
| --- | --- |
| My Jeep - Cat Back Exhaust | Evilwrangler.com |
---
Gibson Cat-back Exhaust
May 2002
Well I noticed some rattling in my muffler on the way home from the creek. Turns out one of my Baffles blew. Time for an upgrade. I ordered and installed the Gibson Cat-back system. I got it from 4 Wheel Parts. It took two days to get it and it was shipped to my house. The box had been opened and the stainless steel tip that was supposed to come with the kit was missing. I also noticed that the bottom of the box said "display". Anyway, I called 4 Wheel Parts and they had Gibson ship me a new tip.

I had Dan at Tomball Muffler and Brake install it for me after climbing under my Jeep and realizing that the last muffler wasn't exactly a stock install. The bolt on muffler kits don't work if there has already been modifications to the previous equipment. The hangers were different and the muffler was going to have to be modified slightly on one end. My tube bumper blocks me from adding the chrome tip. I just don't have the proper tools.

I got about a 2MPG increase in my gas mileage with this upgrade. It also sounds pretty throaty with the 2" pipe coming out the back.



---