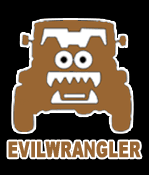 | | |
| --- | --- |
| My Jeep - JKS 1.25" Body Lift | Evilwrangler.com |
---
JKS 1.25" Body Lift
---------------------
I already had a 2" Body Lift that the previous owner had installed but it was missing the spacers under the front clip. Since I had recently installed the suspension lift I knew I could comfortably fit 33" tires with less body lift.

I guess this body lift was as complete as any other lift. It did not have fan shroud relocation brackets but since I already had the 2" brackets I just drilled another hole and used those.

I had to cut through several body mounts and bolts. I used a Sawzall with a metal cutting blade.






































---