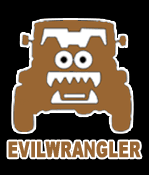 | | |
| --- | --- |
| My Jeep - BF Goodrich MT TA Tires | Evilwrangler.com |
---
33" BFG MT and Rims
-------------------
Since the lift I have been yearning to get new tires. I waited 6 months to save the money and finally convinced my wife to let me get them for Christmas.

4 Wheel Parts was having a tire and wheel package deal. 4 BF Goodrich Mud Terrains and 4 Black Rockcrawler Rims for $770. I have always dealt with Discount Tire when it comes to Tires so my first stop was to get Discount Tire to pricematch. Unfortunately for me, Discount would not match this price.

I ended up going to 4WP. I can't say that I had a wonderful experience. First, scheduling to have this done seemed to be a major hassle. The original time I was scheduled (granted this was during the holidays) slipped several days. I was only informed when I called when I was on the way there that my appointment was not possible. Good thing I called.

When I talked to them to reschedule they promised me they would be mounted and balanced when I got there. 2 hours after my arrival they were on my Jeep. Obviously they weren't mounted and balanced previous to my arrival.

Also the price for mounting and balancing was exhorbinant. I was charged for every little thing. $65 shop fee on top of that. Nothing was included. They didn't have the centercaps or lugs so the ones off of my previous rims were used. You would have thought that they would've been able to get these ordered since it had been two weeks since my initial order. Basically I believe that if I had gone to discount tire with the final total, they would have matched it.

Here's where the fun begins. A couple of weeks after I had gone 4 wheeling and got some mud in the beads on two tires. Since I elected to get the warranty I went back up to 4 wheel parts. It took them two and a half hours to tell me they couldn't find the leak. This was ridiculous since I could detect the leak by spraying a water hose on the rim. During this long period of time I checked the garage and they never even had the tire off the vehicle. They told me that since they don't have a leak tub I could either schedule to leave my vehicle with them and they would take the tires to Discount and have them fixed or I could do it.

Anyway now I just go directly to Discount Tire to get my stuff fixed. It's a hassle because I have to beg not to get charged 17 dollars for every tire since I didn't actually purchase my tires from them. However the service I get there is outstanding.

As for the tires. I love them. They help immensely when off-road and aren't very noisy on road (I expected worse). I am able to air down into the teens without losing a bead. I have had them for about 6 months and seem to be wearing well.
---