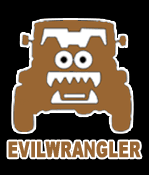 | | |
| --- | --- |
| My Jeep - CE Tow Hook Mounts | Evilwrangler.com |
---
Creative Engineering Tow Hook Mounts
---------------------------------------------------------
One of the problems that you'll have with double tube front bumpers is that the tow hooks don't fit behind them. I was once told that the front tow hooks from an 80's model Toyota Landcruiser would fit with the tube bumper but the dealer didn't have anything in the computer that resembled what I had a picture of.

I pulled on that front bumper for a long time by just wrapping the strap around one end and going behind the bumper and between the two tubes on the other side. I felt that now that the Jeep was bigger and I was trying harder stuff that I better get a better tow point in the front.

I went to Mark Claus at Creative Engineering in The Woodlands. He cut me a couple of pieces of 1/4" square tube to be a spacer and lift the tow hooks. then he measured up the holes, drilled them through and painted them for me. Then I used 4" Grade 8 bolts to secure them.

It might not be the best fix in the world but they are plenty strong and it was much cheaper than a new bumper with D-rings.
---