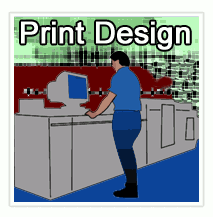 Illustration
Advertising
Business Cards
T-shirts



Get more for your money by making sure all your marketing materials convey a consistent, compelling message for optimum effectiveness. Whether I'm matching to an existing logo or creating a new one, by corresponding your marketing materials you are creating brand identity, which will no doubt enhance your business.

I can help you with your print project from concept to completion. Although I have some examples of my work on this page, I feel that print design is better displayed as a finished printed product. I would be happy to meet with you and show you my complete print portfolio.

I am familiar with all the major design, layout and illustration programs. I can design material to hand over to your printer, or I can work with my printer and deliver you the complete solution.