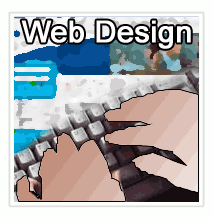 Web Design
Custom Graphics
Logo Design
Web Consulting


I practice visual communication that is simple, clean and effective. The goal of any website is to inform and/or provide content. I focus on this by keeping websites free of unnecessary clutter and easy to navigate. Not every client you will reach will have the latest in computer hardware. My websites are created to load fast and work with all Internet browsers. I believe that everything I produce should be of the highest quality, while also meeting the client's practical specifications.

I will work with you to create graphics and logos specific to your business that are one of a kind. My graphics will be geared toward your target audience. Whether, it's men, women, teens or small children, I can make interesting graphics to help your business.

I am familiar with servers and hosting. However, I prefer for my customers to handle the hosting. That way the content truly belongs to them and is on their server. I can suggest multiple hosts and packages that will meet your requirements.

I can code in straight HTML and have experience implementing Java scripts, Server Side Includes, Cascading Style Sheets, CGI forms, PHP and Macromedia Flash. I have extensive training using Photoshop, Illustrator, Freehand, Dreamweaver, and Front Page.